Shirley Ann Druivenga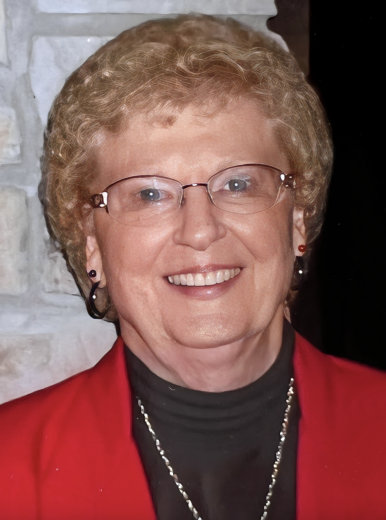 Shirley Ann Druivenga
1936 – 2023
BATTLE CREEK - Shirley Ann Druivenga, a beloved wife, mother, grandmother, and great-grandmother, passed away at her home in Battle Creek, on Monday, Nov. 13, 2023, at the age of 87.
A Funeral Service will be held at 11:30 a.m., on Tuesday, Nov. 21, 2023, with a Visitation held prior to the service from 10-11:30 a.m., at the First Presbyterian Church of Battle Creek. Rev. Kevin J. Freese will officiate. Committal Services will be held in the Ida Grove Cemetery of Ida Grove.
The Christensen-Van Houten Funeral Home of Battle Creek, is in charge of the funeral arrangements. Condolences may be sent online at www.christensenvanhouten.com.
Shirley was born on Feb. 18, 1936, in Holstein, to Canova "Buck" and Lillian (Leeds) Miller.
She graduated from Holstein High School in 1954 and married her husband, Duane Druivenga, on April 27, 1956. Together, they shared a life full of joy for 67 years.
During her early years, Shirley worked as a legal secretary and tax preparer for the Attorney General in Washington, the Iowa Supreme Court, and attorneys Jesse Leonard and Bruce Snell Sr. and Jr. However, her greatest purpose was raising her family.
Shirley lived her life to the fullest and never met a stranger. She was a devoted member of the First Presbyterian Church of Battle Creek and an avid volunteer in the community. She also enjoyed traveling, playing bridge, and spending time with her family.
Shirley is survived by her husband Duane Druivenga of Battle Creek; son David Druivenga of Beaumont, Texas, and daughter Lori Tripp of Omaha, Nebraska; granddaughters Danielle (Tobias) Pugsley of Cotter, Arkansas, and Ashley (Thomas II) Livermore of Omaha, Nebraska; great-grandchildren Devyn, Dylan, Ryman, Thomas III, Addison, and Ava.
She was preceded in death by her parents, Canova and Lillian Miller.
Services: Nov. 21, First Presbyterian Church, Battle Creek
Burial: Ida Grove Cemetery, Ida Grove
Christensen-Van Houten Funeral Home • Battle Creek: 712-365-4446
Category:
The Holstein Advance
The Holstein Advance
523 S. Main Street
Holstein, Iowa 51025
Phone:  712-364-3131
Fax:  1-800-340-0805
Mid-America Publishing
This newspaper is part of the Mid-America Publishing Family. Please visit www.midampublishing.com for more information.