Peggy L. Else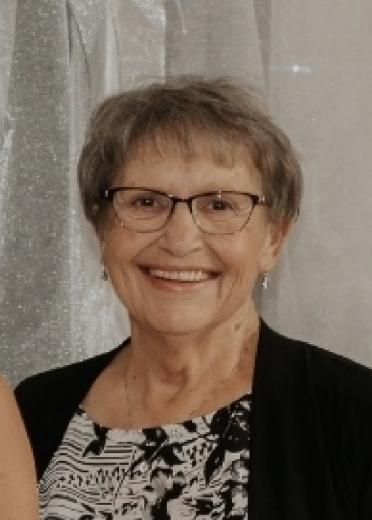 Peggy L. Else
1943 – 2023
GALVA - Peggy L. Else, 79, of Galva, passed on Tuesday, Aug. 8, 2023, at her home in Galva. A funeral service will be held on Saturday, Aug. 12, 2023, at 10:30 a.m. at the St. John's Lutheran Church of Galva with Pastor Paul D. Egger officiating. A visitation will be held on Friday, Aug. 11, 2023, from 6-8 p.m. at the Nicklas D. Jensen Funeral Home of Holstein. Burial will be at the Galva Township East Cemetery of Galva. The Nicklas D. Jensen Funeral Home of Holstein is in charge of the arrangements.
Peggy Lea (Allen) Else was born Oct. 6, 1943, in Pomeroy, Iowa to William and Merna May (Stuart) Allen. She graduated from Pomeroy High School. Peggy worked as a secretary at FELCO in Ft. Dodge until she was united in marriage to Arnold Else, Jr. They were married on Jan. 5, 1963, in Pomeroy. They made their home in Galva, where they raised four children. Peggy enjoyed staying home to care for her children while they were young and was a teacher's aide in Justin's classroom all through his elementary years. She and Jr. purchased the Lumber Inn in 1997 and were the owners and operators there for 10 years.
Peggy was a member of St. John's Lutheran Church where she was active in Ladies Aide and the Altar Committee. She belonged to the Ida County Cowbells, the Holstein Country Club, Pheasants Forever and was a Galva First Responder. She loved caring for her family and cooking them the most delicious food, especially her bread. Peg could always be seen in the bleachers supporting her children's and grandchildren's activities, whether it was sports or the fair. She also enjoyed gardening, mowing, golfing, and bowling.
Peggy is survived by her children, Grant (Shelly) Else, Dawn (Johnny) Miranda, Stuart (Jill) Else, and Justin Else; grandchildren, Michaela (Mick) Jepsen, Savannah Olson, Montana Else, Madeline Else (fiancée Nathan Klingenberg), Aly (Frankie) Torres, Nic Miranda, Emily Miranda (special friend, Alec Jacobsen), William Miranda, Evan Else, Lance Else (Sydney Chamberlain), Lucas Else, Abigail Else, Levi Else, and Christopher Junior Else; great-grandchildren, Sophia and Josephine Torres and Layne Else. She is also survived by her brothers, Dennis (Jan) Allen, Bruce (Deb) Allen and Steve (Eldeen) Allen; sisters-in-law, Rosie Allen and Kathy Allen; brothers-in-law, Harlan (Jane) Else and Don Camarigg; and many nieces and nephews.
She was preceded in death by her husband of 42 years, Jr.; her father, William Allen; mother and stepfather, Merna and Orin Hansen; great-grandson, Liam Else; brothers, David Allen and Paul Allen; brothers-in-law, William Else and John Else; sisters-in-law, Ardith Camarigg, Judy Winterhof and Donna Else; and nieces and nephews, Randy Else, Bill Else, Jody Schulke and Angela Camarigg.
Online condolences can be made at nicklasdjensenfh.com.
Services: Aug. 12, St. John's Lutheran Church, Galva
Burial: Galva Township East Cemetery, Galva
Nicklas D. Jensen Funeral Home • 712-368-4332 • Holstein
Category:
The Holstein Advance
The Holstein Advance
523 S. Main Street
Holstein, Iowa 51025
Phone:  712-364-3131
Fax:  1-800-340-0805
Mid-America Publishing
This newspaper is part of the Mid-America Publishing Family. Please visit www.midampublishing.com for more information.