Dottie L. Cronin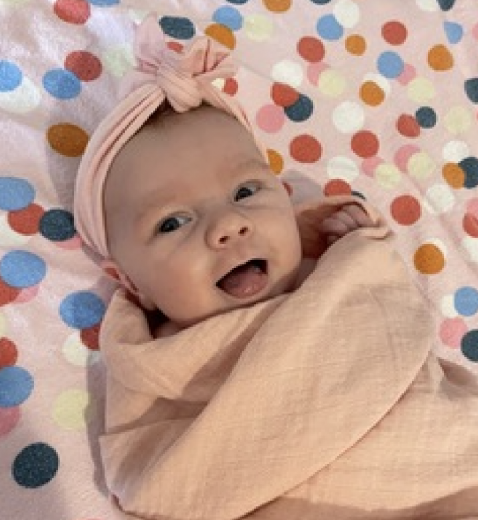 Dottie L. Cronin
2023 – 2023
HOLSTEIN - Dottie Lucille Cronin, daughter of Kristina and Andrew Cronin, of Holstein, passed peacefully in the arms of her loving parents Wednesday, Sept. 6, 2023, at the Children's Minnesota Hospital of Minneapolis, Minnesota. A funeral mass will be held on Saturday, Sept. 16, 2023, at 10 a.m. at the Our Lady of Good Counsel Catholic Church of Holstein with the Fr. Dan Rupp officiating. Burial will be at the Calvary Cemetery of Holstein. A visitation will be held on Friday, Sept. 15, 2023, from 5-7 p.m. with a recitation of the rosary at 4:30 p.m. and a scriptural prayer service at 7 p.m. at the church. The Nicklas D. Jensen Funeral Home of Holstein is in charge of the arrangements.
Dottie was born to Andy and Kristina (Brodersen) Cronin on July 6, 2023, in Minneapolis, Minnesota. During her two short months here on Earthn she touched many lives and was loved deeply by family and friends. Dottie was a strong girl with spunky personality to match. When she wasn't smiling, she was giving her nurses and doctors a one-of-a-kind side eye.
Dottie is survived by her parents, Andy and Kristina and her brother, Francis Cronin of Holstein. She is also survived by her grandparents, Linda Brodersen and Jeff and Brenda Cronin and great-grandparents, Glen and Maxine Johnson, all of Holstein; aunt and uncle, Pam and Jarid Currie and cousins Reese and Kennedy of Schaller.
She was preceded in death by her grandfather, Gary Brodersen and great-grandparents, Francis and Norma Cronin, Betty and Ewald Brodersen, and Charles and Helen Matthews.
The family would like to thank all the staff at Children's Minnesota, especially all the doctors and nurses in the Cardiovascular Care Center.
Online condolences can be made at nicklasdjensenfh.com.
Services: Sept. 16, Our Lady of Good Counsel Catholic Church, Holstein
Burial: Calvary Cemetery, Holstein
Nicklas D. Jensen Funeral Home • 712-368-4332 • Holstein
Category:
The Holstein Advance
The Holstein Advance
523 S. Main Street
Holstein, Iowa 51025
Phone:  712-364-3131
Fax:  1-800-340-0805
Mid-America Publishing
This newspaper is part of the Mid-America Publishing Family. Please visit www.midampublishing.com for more information.