Betty M. Paulsen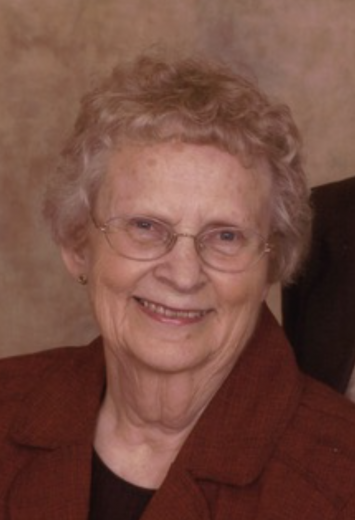 Betty M. Paulsen
1932 – 2023
HOLSTEIN - Betty M. Paulsen, 91, of Holstein, passed away on Tuesday, Nov. 14, 2023 at the Senior Living of Holstein. A funeral service will be held on Friday, Nov. 17, 2023 at 10:30 a.m. at the St. Paul Evangelical Lutheran Church of Holstein with the Pastor David Halaas officiating. Burial will be at the Holstein Cemetery of Holstein. A visitation will be held on Thursday, Nov. 16, 2023 from 4-6 p.m. at the Nicklas D. Jensen Funeral Home of Holstein. The Nicklas D. Jensen Funeral Home of Holstein is in charge of the arrangements.  
Betty May Paulsen was born May 29, 1932, to George and Mary Meister Todd. She graduated from Cushing High School.
Betty was united in marriage to Peter H. Paulsen on Dec. 30, 1954, at St. Paul Evangelical Lutheran Church in Holstein. They made their home on a farm northwest of Holstein where they raised their three children. They moved to Holstein in 1982, where they lived until 2020, when she moved to Holstein Senior Living. Betty enjoyed being a farm wife and helping on the farm where she could. She also cleaned St. Paul Lutheran church for many years. Betty loved baking, playing cards and gardening.
She is survived by her daughter, Joan; son, Jerry (Tina) Paulsen; son-in-law, John Modrell; seven grandchildren; 17 great-grandchildren and a brother-in-law, Norm Carstensen.
Betty was preceded in death by her parents; husband, Peter Paulsen; daughter, Julie Modrell; brothers, Albert (Lorine) Todd, Glen (Arliss) Todd and Louie Todd; sisters, Irene (Delbert) Kohn, Marie (Raymond) Jepsen and Mary Lou Carstensen.
Online condolences can be made at nicklasdjensenfh.com.
Services: Nov. 17, St. Paul Evangelical Lutheran Church, Holstein
Burial: Holstein Cemetery, Holstein
Nicklas D. Jensen Funeral Home • 712-368-4332 • Holstein
Category:
The Holstein Advance
The Holstein Advance
523 S. Main Street
Holstein, Iowa 51025
Phone:  712-364-3131
Fax:  1-800-340-0805
Mid-America Publishing
This newspaper is part of the Mid-America Publishing Family. Please visit www.midampublishing.com for more information.