Lydia 'Bids' Hargens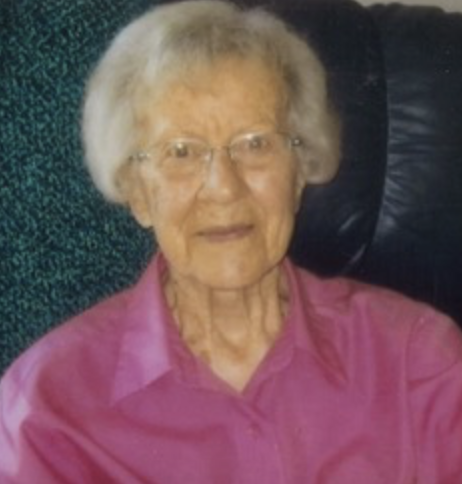 Lydia 'Bids' Hargens
1923 – 2022
HOLSTEIN - Lydia Lucille (Miller) "Bids" Hargens, age 98, of Holstein, passed away on Tuesday, Aug. 16, 2022, at the New Aldaya Lifescapes of Cedar Falls, Iowa. A private family graveside service was held on Sunday, Aug. 21, 2022, at the Holstein Cemetery of Holstein with Pastor Bob Lewis officiating. Burial was at the Holstein Cemetery of Holstein. A public visitation was held on Sunday, Aug. 21, 2022, from 1- 2:30 p.m. at the Nicklas D. Jensen Funeral Home of Holstein. The Nicklas D. Jensen Funeral Home of Holstein was in charge of the arrangements.
Lydia was born on the family farm Sept. 16, 1923, to August and Caroline (Witte) Miller. She became "Biddles" to her family and "Bids" to her friends. Lydia rode her pony, Beauty, to her country school and graduated from Ida Grove High School in 1940. She taught rural school for two years and then packed her bag, got on the bus to Omaha and took a summer secretarial course so she could work at the Ida County Courthouse until her marriage on Nov. 22, 1947, to Orville E. Hargens. They lived in Sioux City, where Lydia worked at the Woodbury Courthouse and Orville was a farm manager before moving to Merkley Street in Holstein in 1949. Lydia lived her life on Merkley with good neighbors, moving a few houses down the street in 1974. She tended to beautiful roses that passersby admired. After Orville's death in 1984, Lydia lived an independent life, driving herself to visit her loved ones countless times throughout the years. In 2014, Lydia made the decision to move to Cedar Falls, Iowa to be closer to her family. She was able to visit with one of them in person almost every day.
Lydia held many jobs starting with being a popcorn girl at the Ida Grove theatre, a census taker, vet clinic assistant, and tax processor at the Besore Law Firm, but her favorite, most memorable job, was as secretary and gatekeeper for the principals at Holstein High School. Lydia held this position for 35 years and never tired of her office, the activities, or her interactions with students. She cared for them all equally. Lydia enjoyed playing bridge and 500 and visiting with her friends. She was an active volunteer at her church where she was a longtime member, walked to work nearly every day in any kind of weather, looked forward to college football and basketball seasons and cheering for the Iowa State Cyclones, reading the Register daily along with the newest books from the library and eating at special restaurants with her family. Her grandchildren were lucky to play in the school gym when they visited and enjoyed her homemade cinnamon rolls and hot fudge sundaes. She valued education and was very proud of her son becoming a veterinarian, her grandsons doctors of medicine and her granddaughters receiving their master's degrees. Lydia experienced great sorrow during her years, but she kept her faith and always walked forward with a warm heart and hope.
Lydia was preceded in death by her parents and eight siblings, her first son who was stillborn in 1949, a granddaughter, Grace, in 1992 and her dear friends, Gerdi and Herman Dierks from Holstein. She is survived by children Rena' (Greg) Raecker of Cedar Falls and Brian (Kristin) Hargens of Hudson; Grandchildren Matthew (Beth) Raecker of Des Moines and Anne (Jared) Randall from Las Vegas, Benson (Lora) of Osage and Kelsey Hargens from Oklahoma City; Great-grandchildren Luke, Mara and Ben Raecker, Kai Raecker, Parker, Lydia and Mari Hargens. Lydia remained engaged and interested in life until her death.
In lieu of flowers, memorials may be sent to St. Paul Lutheran Church, Stubbs Memorial Library and the State Theatre, all in Holstein.
Services and Burial: Holstein Cemetery, Holstein, Iowa
Nicklas D. Jensen Funeral Home • Holstein, Iowa • 712-368-4332
Category:
The Holstein Advance
The Holstein Advance
523 S. Main Street
Holstein, Iowa 51025
Phone:  712-364-3131
Fax:  1-800-340-0805
Mid-America Publishing
This newspaper is part of the Mid-America Publishing Family. Please visit www.midampublishing.com for more information.